SVH club area
The Seglervereinigung Hüde is located in Hüde on the south-eastern bank of the Dümmer with its Lower Saxony state sailing base.
The clubhouse and the marina for inland vessels are directly opposite, separated only by the dyke. Three large and comfortable slipways are available for the dinghies and catamarans.
For larger boats, SVH has a comfortable crane system with a lifting weight of up to 3 t.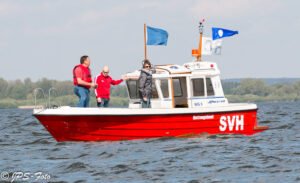 A large robust motor vessel and a RIB as rescue and regatta boats have their berth in the SVH.
SVH Clubhouse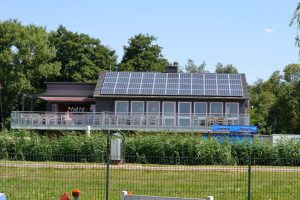 The SVH clubhouse is also the soul of the club. The house is equipped for the "normal" club life as well as for the rush of out-of-town sailors. In order to meet the requirements, the members have to keep updating their clubhouse. A few years ago, the clubhouse was renovated at great expense.
Harbour facility according to ecological aspects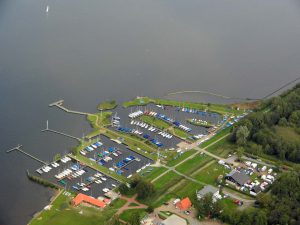 The SVH harbour, newly built in 2005 according to ecological principles, is certainly a jewel.
After eight years of preparation, the club was able to prove that sailing on the one hand and flora and fauna on the other can certainly coexist. A total of six slipways and a spacious area ensure smooth operations in both normal and regatta mode. Nevertheless, you can relax in peace on these grounds. An abundance of fish in the harbour, water plants that have become rare and breeding pairs of birds are now part of the usual picture.